Much of the Highways works happening around West End and Grange Park is as a result of residents' feedback.
New Pavements for Quob Lane!
For several years I have been requesting that the Quob Lane pavements be resurfaced.  However, they were in such poor condition that from 9 May, the pavements on both sides of the road were completely reconstructed.  The work took around a month and meant a traffic diversion through Brookside Way and Little Quob Lane, which unfortunately inconvenienced residents, but I hope that you agree that the wait was well worth it.
I have already been successful in getting many of West End's pavements resurfaced in recent times.  If you would like me to campaign to have your pavements upgraded, please contact me.
Kanes Hill Roundabout pedestrian and cycle safety improvements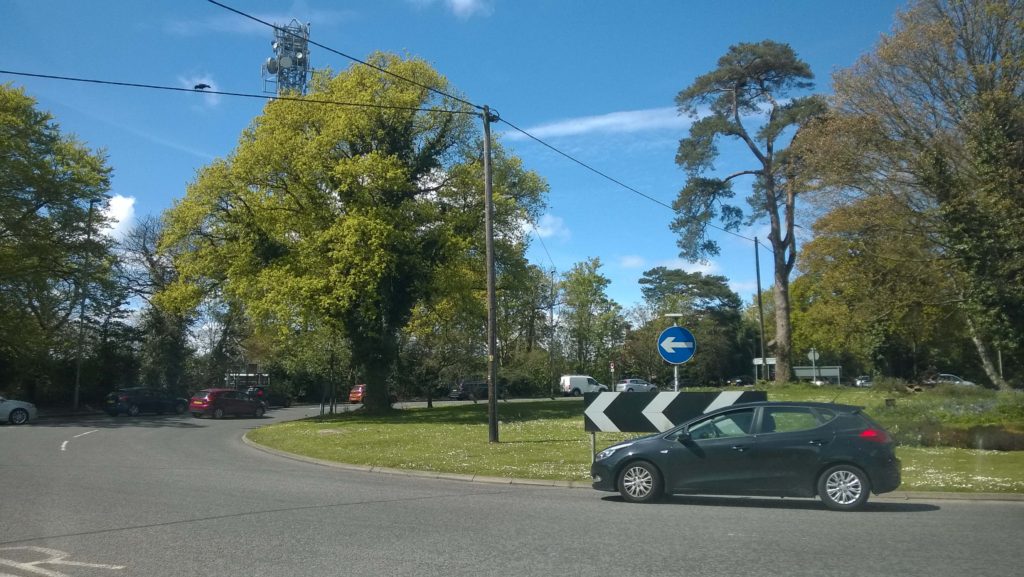 As a result of your requests for improved pedestrian and cycle safety in West End, Hampshire Highways are commissioning a study to improve pedestrians and cyclists ease of negotiating the Kanes Hill Roundabout at the junction of Charles Watts Way and Moorhill Road.  The report will be ready is expected by September.  Contact me if you have similar concerns elsewhere in West End.
New Puffin pedestrian crossing Crossing in place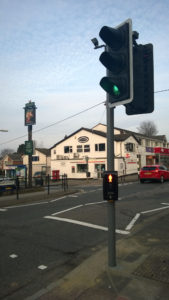 I received numerous complaints about how long the railings were taking to be repaired on West End's High Street.  The work has now been done.  The problem is that Lorries are continually damaging them and a stronger solution needs to be found.  On the positive side, at least the railings have been strong enough to keep pedestrians safe.
More good news!  A solution has been found to shorten the time traffic is held up at the High Street pedestrian crossing.  The Pelican Crossing lights have been upgraded to Puffin Crossing lights.  As part of my continuing campaign to improve traffic flows through West End, I have been championing the greater use of modern technology.  Well, the Puffin technology has arrived in the High Street.  The old technology simply relied on a timer once the button has been pressed to cross the road.  Even if no one decided to cross after the button was pressed, the lights would go to red for the motorists for the same length of time as a large group of pedestrians crossing.  The new Puffin lights will only stay red as long as the detectors sense the presence of pedestrians.
Yearlong Traffic Delays likely in Mansbridge Road from May 2016!
Due to a European-wide environmental directive, known as the Habitats Directive, Southern Water are having to lay a pipe from the Portsmouth Water Works in Allington Lane to the mini-roundabout in Wide Lane near the Swaythling Road railway bridge.  The work will start in May of this year and likely take until May 2017 before it is complete.
When the work starts, there may not be an initial disruption to A27 traffic as it is expected the first workings will be in the Haskins Garden Centre car park.  Southern Water tell me that there no plans to close the A27 and that the contractor will be encouraged to work around the clock to minimise the disruption to traffic.  Traffic signalization will probably be restricted to 100 metre lengths.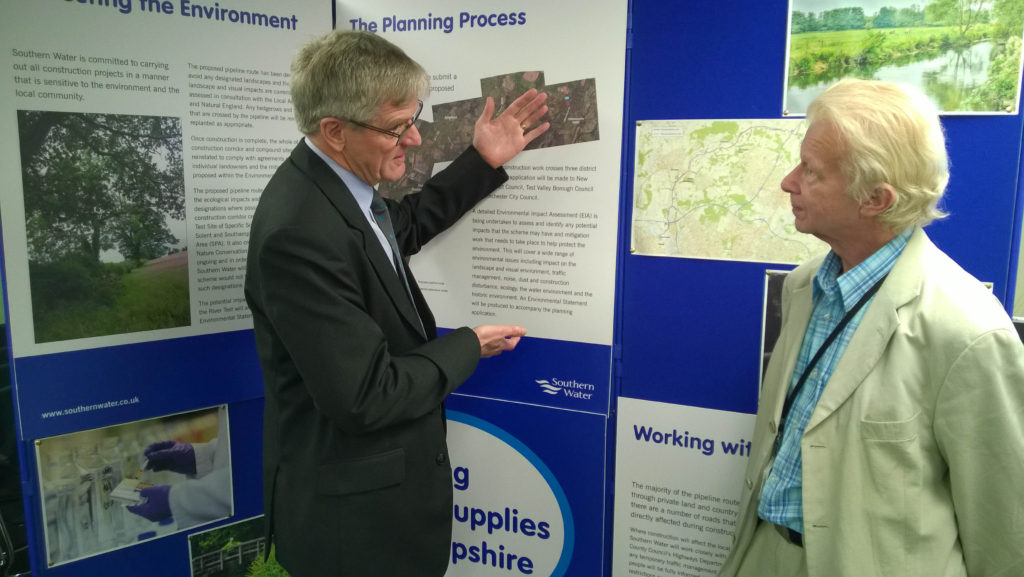 Habitats Directive
The work is necessary since for environmental reasons water cannot be extracted from the Itchen further up river when the flow rate and level drops below a certain point.  There is a risk that this may occur in times of drought.  To ensure a continuity of residential water supply, a pipeline capable of carrying 15 million litres of treated water a day has to be added to the network.
Southern Water
Although this is a Southern Water project, they work in conjunction with Portsmouth Water to ensure that a fresh water supply is always available to our homes.  Southern Water are working hard to inform local communities about this impending work, because it will cause disruption to traffic, but as explained, the reasons are to protect our environmental resources, ensure continuity of water supply as well as statutory.  I for one am grateful that Southern Water invited all local councillors of nearby councils as well as other stakeholders to the drop-in, since now I have a much better idea of why the work is being done and who I can go back to if further questions arise from residents.  In addition to the information I have supplied here, I have updated councillors and members of the public at West End Parish Council and Hedge End Town Council about the impending works.
Transport Infrastructure Improvements
These yearlong roadworks raise the issue once more of traffic flows at the roundabout at the junction of Swaythling Road and Allington Lane.  This is something I have been campaigning for over a long period; however, it is likely to be very expensive.  In addition, much more traffic will use Allington Lane during this period as motorists try to avoid the inevitable delays.  The Allington Lane railway bridge was designed in former times when local traffic flows were very light, but with a greater frequency of traffic at peak times, I have requested the use of temporary traffic lights to improve traffic safety.
Click here to see the spring edition of Southern Water's stakeholder newsletter for Hampshire and the Isle of Wight