Openreach have phoned me to confirm that two Project Managers will be attending the 4 March County Council Policy & Resources scrutiny committee meeting.
I think I have a good understanding of the bigger picture now. In terms of accessing affordable Internet at home, the best Gigabit solution is fixed Broadband. Openreach or Virgin Media will pay for the installation if they determine that they have enough customers in that location to repay installation costs.
There will be hard to reach areas where the fixed Broadband installation costs do not stack up, but mobile Broadband may still be commercially viable; not forgetting, that residents will be paying a higher tariff for mobile Broadband.
In the areas where neither fixed nor mobile Broadband installation costs are commercially viable, then Government funding should be available through some sort of local authority bidding process with BDUK (Building Digital UK, an offshoot of the Department of Digital, Culture Media and Sports).
However, if I am to be effective in my campaigning, I need to know exactly how many households in my County Division do not have access to Gigabit Broadband. Neither Openreach nor Virgin Media supply this information, although an approximate idea can be found, postcode by postcode. It would be very helpful if local authorities had access to this information.
The telecoms regulator, Ofcom publish fixed and mobile Broadband coverage maps. They are not very detailed and do not include 5G, but that has been my starting point for West End & Horton Heath. I have found a third party organisation that is publishing Openreach Cabinet inventory and through that, I am building up a street-by-street analysis of where full fibre upgrades are needed.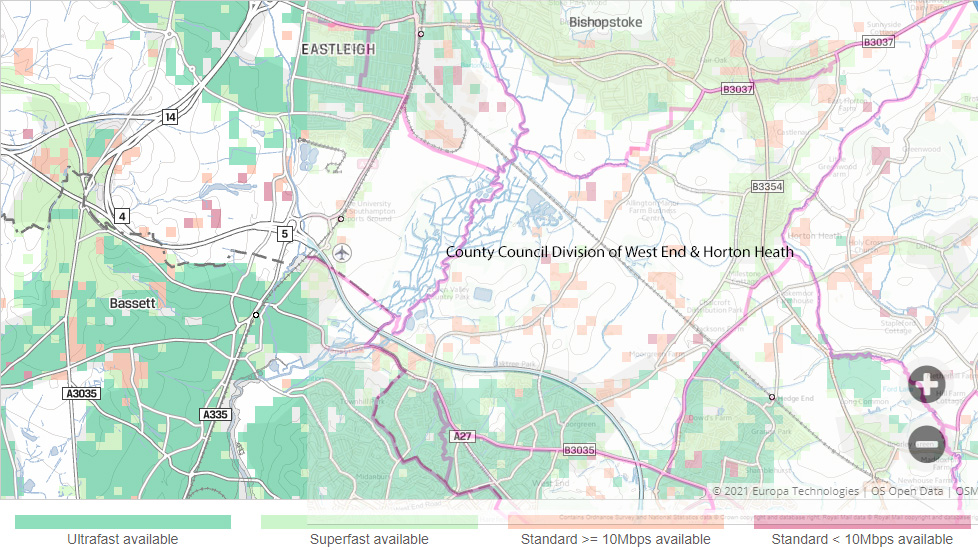 As you can see from the map, Gigabit Broadband is not available to the majority of households in my Division, only many of those south of the M27. For anything less than full fibre, even Openreach and Virgin Media will not know the individual download speeds since copper cable and its many connections is very lossy.
There is no excuse for new housing developments as Openreach and Virgin Media will provide quotations for Gigabit installations, but when local planning applications come before me, I am raising this issue.
I have been in regular communication with the County Council Officer dealing Broadband and he will soon be writing the briefing paper for the forthcoming Policy & Resources scrutiny meeting. 
Questions I want to ask Openreach include;-
Can you tell us which households in our Divisions do not have access to Gigabit Broadband?
How many of these households do you plan to upgrade to Gigabit Broadband?
For those households for which you do not have plans to upgrade, what is the Government bidding process for local authorities?
Will Openreach and Virgin Media work closely with local authorities and councillors to ensure an efficient Gigabit rollout?
Summary
The most cost effective way of accessing the Internet is via fixed Broadband. Most areas within my County Division cannot yet access Gigabit Broadband. Openreach and Virgin Media will upgrade these households as long as they can recoup installations costs. To do that they will need to know what Broadband service residents want. The areas that are not commercially viable for Openreach and Virgin Media to upgrade can be supported by Government funding.
Either way, upgrade to Gigabit Broadband is unlikely to happen without householders requesting it.
Please make requests via the following hyperlinks;-
https://www.openreach.com/fibre-broadband-availability-customer
https://www.virginmedia.com/help/registermyinterest
I am happy to answer any questions you may have.
Background information on the above is at http://brucetennent.org/west-end-horton-heath/broadband-the-fourth-utility/