Immigration
Migration within the European Union is one of the core philosophies.  It is the same concept as moving between one county and another.  Here are some immigration related facts;-
UK population increased by 3.7 million people from 2001 to 2011
London's population has risen by 600,000
EU policy is for free movement of people, which peaks when new members join
Labour admit they were wrong to be one of only two countries to allow immediate immigration on the accession of 10 countries in 2004, which resulted in steep growth rate of the population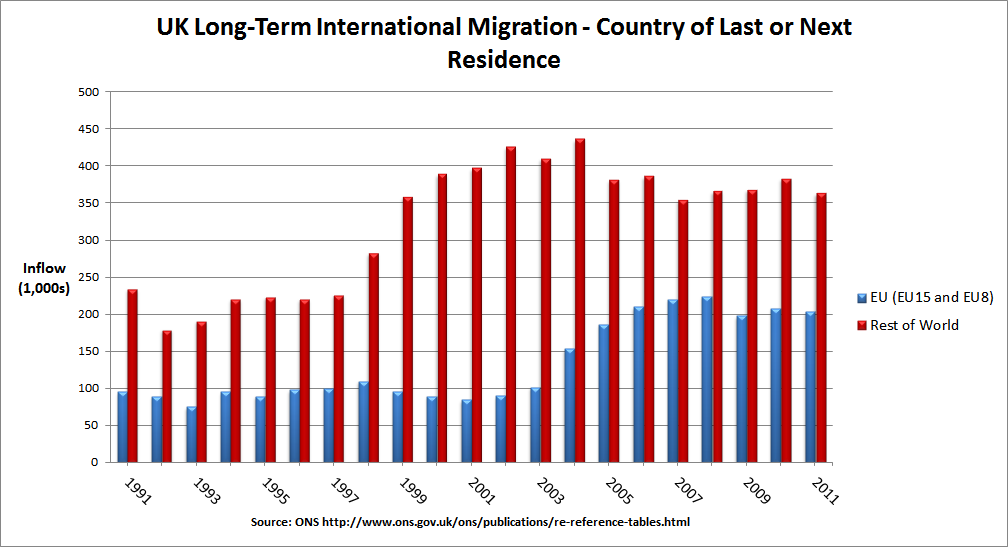 Office of National Statistics data shows that UK immigration from within the European Union was lower than immigration from the rest of the world between 1991 and 2011.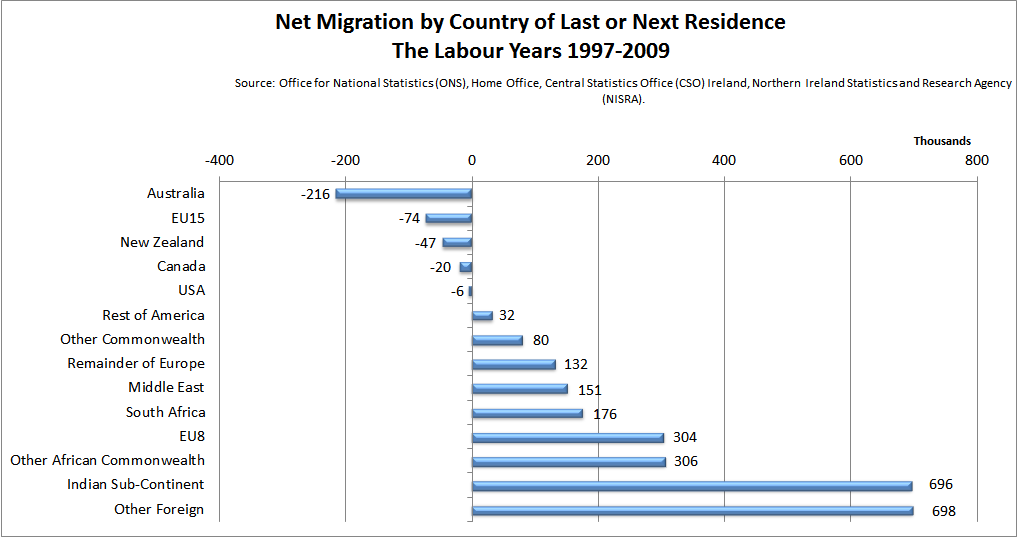 Whereas the same Office of National Statistics data for the Labour years (1991 to 2009), but presented in a different way, highlights a different issue.  Now we see a large outflow of the UK population to Australia, a large inflow to the UK from the Indian sub-continent, an outflow to EU15 states (there were 15 member states up until 2003) and an inflow of EU8 states to the UK (8 more member states joined between 2004 & 2006).
Where;-
EU15 (Austria, Belgium, Denmark, Finland, France, Germany, Greece, Republic of Ireland, Italy, Luxembourg, Netherlands, Portugal, Spain and Sweden) up to 2003
EU25 (the EU15 and the EU8 groupings plus Malta and Cyprus) from 2004 – 2006
EU27 (the EU25 plus Bulgaria and Romania) from 2007
Estimates are also shown separately for the EU15 and the EU8 (Czech Republic, Estonia, Hungary, Latvia, Lithuania, Poland, Slovakia and Slovenia, formerly known collectively as the A8).
A Closer Look at Immigration
The UK will be Europe's largest economy by 2030 with population growth cited as an aid to economic acceleration.
Source: Centre for Economic and Business Research, 2013.
Immigration figures include visiting students, yet these students directly contribute to the UK's GDP figures, only second after manufacturing.
Successive governments have failed to ensure that the UK has rigorous border controls.  It seems that GCHQ can read our e-mails and know whom we are speaking to on our phones, but the Border Agency struggle to match up visa entry with visa departure.