Further to my recent visit to KCC, we reviewed past projects noting the success of each, but realised that County Council Devolved Budget funding falls short of what is really needed to provide a decent community vision of what can be achieved.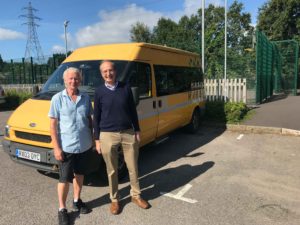 The Minibus enables those who have difficulty with other forms of transport difficult, make use of the church's community facilities. It is not new, but much more reliable than the one it replaces, which had a history of breaking down.
As mentioned in my blog, the church want to repaint the Minibus to match KCC branding, but the cost of making cosmetic changes probably could not be justified.
The Minibus is very useful for the church to have and can possibly be shared with other nearby churches and community groups, but another omnipresent issue is volunteers. KCC need drivers that are registered with them and keeping a large enough pool is problematic.
Changing Places toilets were introduced in the UK around 10 years ago and now number over 550 across the country. This has transformed the lives of many people, enabling them to be far more engaged in their own local communities. I jumped at the chance of being part of a Changing Places toilet project, when KCC approached me.
These facilities vary depending on the space and funding available. Many have hoists, but the KCC Changing Places toilet makes use of a remote controlled changing platform.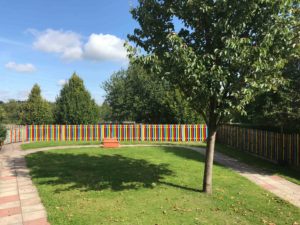 KCC is blessed with a lot of space in which to develop community projects so another potential project revolves around the Family Hub that grew from the crèche set up to look after children during church services.
The outdoor space is underutilised because when it is very sunny, there is not enough shade and when it rains, the grassed area becomes boggy.
They seek to improve the drainage or maybe partition some of the space with artificial grass. I suggested that KCC talk to other local pre-schools to share ideas, such as the Wildern Opportunity Group and West End Pre-school. A number of pre-schools I have spoken to would very much like to have a grassed area for their children as it is safer for the children if they fall and of course is more environmentally friendly.
Currently there is not a great deal of play equipment for the children, so speaking to other pre-schools is useful for this topic also. I also suggested talking to the Clerks of Hedge End Town Council, West End Parish Council and Fair Oak & Horton Heat Parish Councils since they will have experience of commissioning play equipment and will know what is popular with the children.
In addition, the amount of funding my fellow County Councillors and I could provide may not be enough for all of these projects.
Community funding is available from Town and Parish Councils as well as the County and Borough Councils, another topic for KCC to discuss with the Clerks.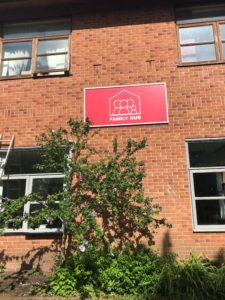 The councillors at the Town and Parish Councils develop a wish list usually known as a Community Investment Programme.
It is a good idea to persuade councillors to add such projects to these lists. With housebuilding comes Developers Contributions, and the negotiated monies from this initiative is known as the Community Infrastructure Levy (CIL).
The Family Hub has been running for a number of years and incorporates other initiatives such as the pre-school.
There is another open space in this area that could be transformed into a family area with play equipment for the children and a coffee break-out facility for the adults.
The ideas are all very good, but funding would need to be raised which is why nothing has been undertaken so far.
KCC have always been very forward thinking, which is why there are a growing church at a time when many others have declining membership.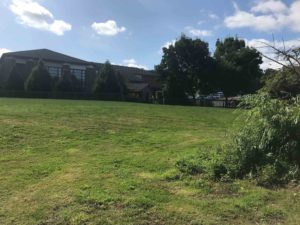 Government funding of Youth Services has been severely cut back during the last few years.  Coupled with the reduction in Police resources has put intense strains on local communities.  KCC run a vibrant youth project that grew so large at one time with in excess of 300 young people, that it became difficult to manage.  The church sees now as the time to create a dedicated area for this project and happily have a piece of land on-site that will fit the bill exactly.  The biggest challenge however is finding the funding .