Introduction
Food banks are run by volunteers to help those have hit hard times, when even the national benefit system has let them down.  Food stocks depend to a certain extent on people donating food they no longer want, but of course is still edible.  However, to a greater extent it is the supermarkets that help make this system work by needing to clear their shelves of food stocks in the days running up to the food expiry date on the labels.  Certain food stocks are perfectly okay after the sell by date.
Help from Councils
Hampshire County Council is helping by having invested £200,000 to tackle food poverty.  The money will help fund volunteer community groups who are being invited to participate in a new scheme called FareShare, aimed at tackling food poverty.  As part of the County Council's Local Welfare Assistance Strategy, the Council has partnered with anti-poverty charity SCRATCH (Southampton City and Region Action to Combat Hardship) to set up new collection points for FareShare, the UK's largest food redistribution charity, providing nearly 8,000 tonnes of good surplus food to over 2,000 charities across the UK.
West End Parish Council are participating in a local scheme by acting as a collection point for food donations from the public.  Hedge End Town Council are operating a similar scheme.
Hedge End Food bank
The Hedge End Food Centre is located in the grounds of Kings Community Church (KCC), Upper Northam Road.  It is here that food collected by local groups such as West End Parish Council and Hedge End Town Council is brought.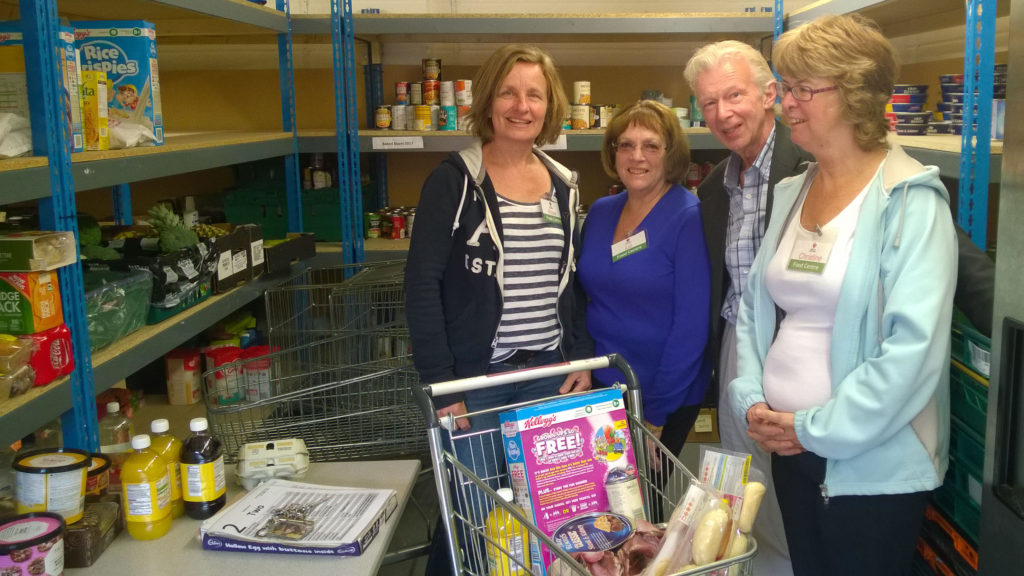 In addition to the support given by KCC, and the local groups previously mentioned the Food bank works in partnership with the local outlet of Marks & Spencer who donate fresh food four times a week, a very welcome addition to processed food, which also has its place.  The Food bank also has a close relationship with other local organisations, such as the Co-op and Londis as well as the majority of other local churches and nearby schools  and not forgetting regular and one off donations from individuals.
The Food Centre has expanded considerably since its inception and provides an excellent opportunity to signpost the clients , if they have a specific need, e.g. the hotline, CAP , CAB or other charitable organisations.  It is totally run by volunteers and has no paid staff.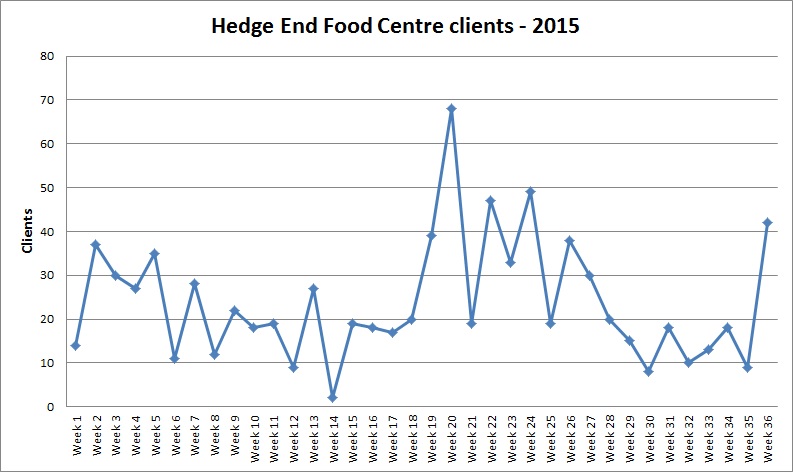 If you would like to know more about the Food bank service, please ring the Advice line on 0300 330 1150.
Staff at the Food Centre gave me an example of how they help the vulnerable and needy, when some months ago they were able to refer someone to the Hampshire Local Welfare Hotline who took up their case.  A little while later, that person returned to say that an £8,000 bill they were so worried about had been written off by the Department for Work and Pensions.  Their pension and savings credit had been restored and that the Citizens Advice Bureau are continuing with outstanding minor issues on their behalf.  The Food Centre staff continues to support this client in the short term until they are back on track.
The Food Centre staff has had clients walk from Chandlers Ford and come from as far as Swaythling, where they have been staying in Bed and Breakfast.  The age range of clients varies from young persons to pensioners and what is loosely termed the working poor.  The staff still have a lot of work to do to ensure that social care professionals in the area are aware of their existence as shown by the fact that the KCC Food Centre is not included on the Hampshire County Council list. http://www3.hants.gov.uk/adultsocialcare/moneyandbenefits/adultswelfare.htm