Who to Vote for?
Understanding the political system is not at all easy.  Knowing who to vote for is even more difficult.  Some people say to me that there is no point in voting because it makes so little difference.  What I would say to that is that is that in a democracy, we all have a say and therefore individually that say is infinitesimally small, but added together with all the other voices your say becomes very important.  There are still countries where the citizens' voice is not heard, so we need to thank our ancestors for fighting for our right to vote.
Everyone has a particular set of values and so it is important to align yourself with others of similar values, which in so doing you will find your political party.  Whether that is libertarian or authoritarian, socialist or conservative, small state or large state, caring for others of caring for one's self, climate change believers or climate change agnostics, internationalists or "Little Britons".  Once you have found your political party then you need to find a person who is offering to represent you at a particular level of government.  It is important that you can trust that that individual will work hard for the type of community you want to live in.  Will they keep you informed about issues important to the community?  Will they work for the Constituency while in Westminster during the week?  Will they attend local functions and take time to speak to you at the doorstep and listen to what you have to say?
Performance Management
If you want to gaugehow effective your local elected member is, then there are some measurable parameters.
List of measurable parameters relating to elected councillors, MPs and MEPs;-
    Number of committees served on
    Number of times attended committees
    Number of councils and outside bodies affiliated to
Non measureable parameters;-
    Pieces of casework successfully completed
    Informing the community about achievements that have improved residents' satisfaction of where they live
As you can see, the list is not exhaustive, which may explain why it is so difficult for citizens to know who best to vote for at times of election, but as a result of our current "First Past the Post" political system, of the 650 constituencies within the UK, more than half are regarded as "Safe Seats".  That is regardless of who is up for election, the residents of that community are likely to vote for a representative of a particular political Party.
Forthcoming Elections
As mentioned on the previous page, the majority of Hampshire is multi-tiered local government, i.e. Hampshire County Council at the top, a District Council in the middle and possibly a Town or Parish Council at the bottom.  Each of these tiers has councillors who represent you and each of these councillors has to be democratically elected.  If a councillor resigns or dies, then the likely outcome will be a by-election.  For historical reasons unknown to me, English elections are usually held in May and always on a Thursday.  In the 21st century, it might be the time for on-line voting or for voting on the weekend.
In Hampshire, the next election to vote will be for the European In/Out (Stay or Leave) referendum on 23 June 2016.
By-Elections
By-elections are generally caused by an elected member resigning, dying, or going back to the electorate after switching parties.  My Eastleigh Borough Council, West End North Ward colleague since 2007, Tony Noyce sadly died of mesothelioma in December 2015.  This sparked a by-election for which Liberal Democrat Janice Asman was selected to stand.  With the community's support, on 11 February 2016, Janice won the Seat maintaining a "Hold" for the Liberal Democrat Party.
Eastleigh Borough Council – 11 February 2016,
West End North
LD 582 [53%; +13.2%] Percentage change since 2015
Con 315 [28.7%; -6.5%]
UKIP 115 [10.5%; -4.9%]
Lab 58 [5.3%; -4.4%]
Green 28 [2.6%; +2.6%]
Turnout 27%
Majority: 267
Liberal Democrat "Hold"
The next West End election will be the Hampshire County Council election in May 2017, four years since the previous County Council election.  However due to the current first past the post electoral system, the political boundaries need to be changed every 10 years or so to cater for the change in local population and maintain a consistent number of voters in each County Division.  Since this must have coterminosity with the District and Parish Council boundaries, the process is long and drawn out.  For this reason, the next County election is likely to have significantly different boundaries and means that the County Councillor will have to get to know a significantly new community.  This will be repeated for the other tiers of local government.  The Boundary Commission have indicated that they will be in a position to announce the new boundaries in August 2016.
District Council Elections – Eastleigh Borough Council, May 2016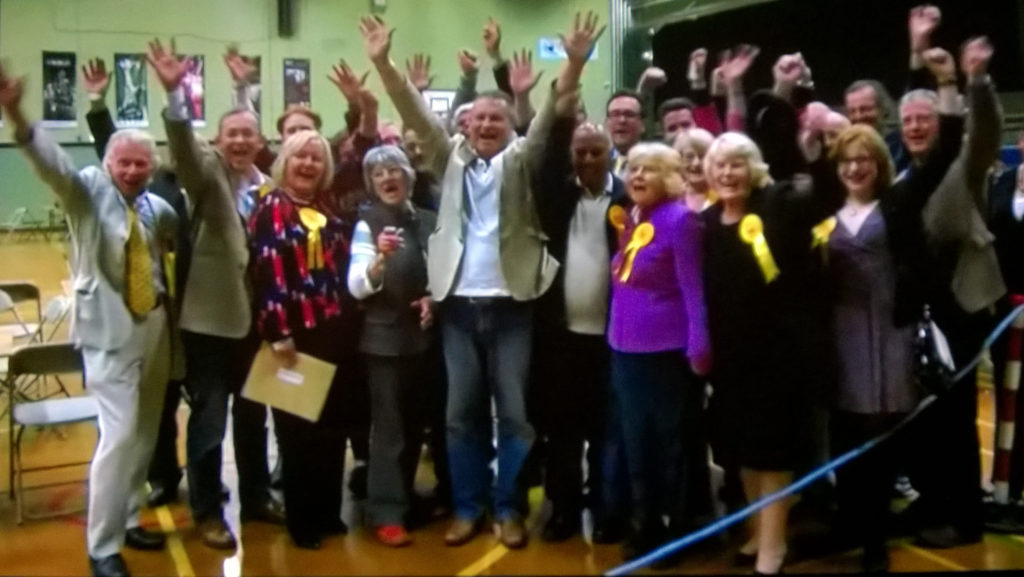 There is a choice in the frequency of elections within District Councils.  They can be as is the case in the New Forest, all councillors up for election once every four years or as is the case in Eastleigh, elections are held in a third of the Borough for three out of four years.  This year, 2016, there were no elections in West End.  However, working as a team, we always help our colleagues with their elections in such cases and so it was that I spent time campaigning in Botley, then over to Fair Oak and Horton Heath.
It was with great satisfaction that the Eastleigh Lib Dems maintained their hold on their Borough Council seats, keeping the status quo of 38 seats out of the 44 available.
Police and Crime Commissioner Election in Hampshire
At the same time as the District Council elections around the borough were the Police and Crime Commissioner elections.  This election is not really a true democratic process, since little is known about who the present Crime Commissioner is and who and what the candidates stand for at the election.  Hence, those that vote, do so largely along the lines of party affiliation. Therefore in Eastleigh, a Liberal Democrat dominated council, it was no surprise to learn that Richard Adair, the Liberal Democrat representative, gained twice the votes of Simon Hayes, the incumbent and Michael Lane, the Conservative candidate.