New Forest Household Recycling Rates; 8th out of 13 Hampshire Councils!
The New Forest District Council household recycling rate at 29% compares very unfavourably with its near neighbour Eastleigh whose household recycling rate is 40%.  Even so, across the country these figures have flat-lined at 43% in recent years with the EU target of 50% recycling rate by 2020 seeming unlikely to be achieved.  The European Commission wants to see 70% of municipal rubbish and 80% of packaging recycled by 2030.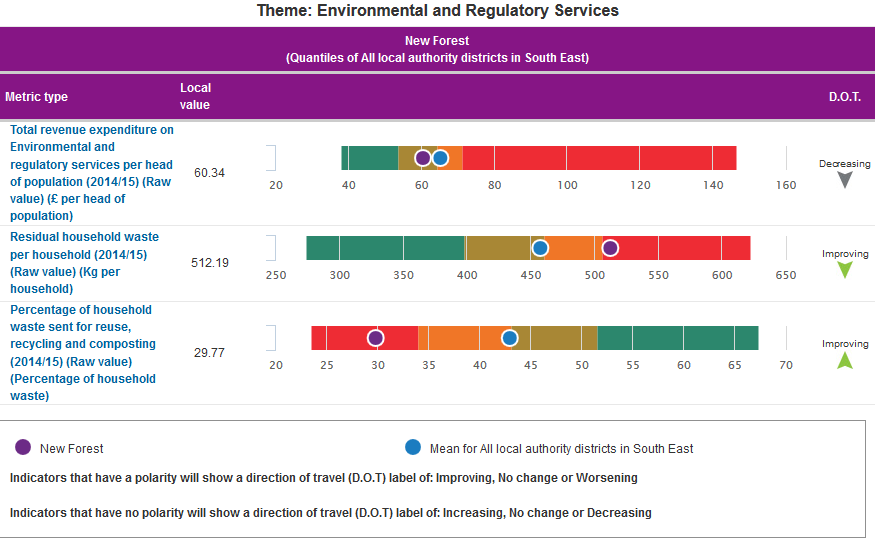 Interpreting the Local Government Association's figures shows that total revenue expenditure on Environmental and Regulatory Services is below average.  This may be welcomed except that the above chart above shows that residual waste (Waste not recycled, but incinerated and sent to landfill) at 507.58 Kg per household is above average and that the percentage of household waste at 29.77% is not only poor, but as the chart shows is in the red band.
A Friends of the Earth document suggests that;-
Highest recycling rates are achieved by providing a doorstep collection service

Providing a container and a weekly collection improves participation

The separate collection of food waste for composting or anaerobic digestion has the biggest potential for improving overall recycling rates

Reducing the size of the bin for residual waste can improve recycling rates, as will reducing collection of residual waste to fortnightly (although for the latter it suggests householder agreement is important)

If garden waste is collected, it should be collected separately for composting or anaerobic digestion
The Tory run New Forest District Council is letting its residents down. It is no coincidence that Eastleigh Borough Council is a Lib Dem run authority! Your local New Forest Lib Dem team is campaigning for you so that we can look after the planet and our environment.