Introduction
I have made the pledge that I will campaign for every household in my County Division of West End & Horton Heath to be able to access Gigabit Broadband. A big reason is not just a better connected world, but also a greener one. The Internet can make travelling from one place to another less necessary, therefore contributing to a less polluted planet.
What follows is the process that led me to make that pledge and developed how I hope to achieve it.
During the pandemic, residents are telling me that their Broadband bandwidth is insufficient for their needs whilst working from home. Government asking people to work from home if they are able has blurred the business/residential model, because previous residential only Internet demands have drastically changed and that is before taking into account the growing number of self-employed already working from home. After the pandemic, it is likely that people will not completely return to how they worked before. As an example, frequent on-line meetings have been found to be so much more efficient than in-person meetings and better for the environment, but also leisure habits have changed with more people streaming movies and the like.
There is an important caveat though and that is affordability, which I have written about in my piece on the national communications infrastructure. If the pandemic has shown us anything, it is that the Internet should be accessible by all, irrespective of ability to pay. It is my contention that a basic service of 3Mbps in 2021 should be free.
When I started my campaign for Broadband accessibility in West End and Horton Heath, I was more focussed on availability than price. From my work later in this piece, it is evident that there is a lack of a simple means of anyone other than Openreach or Virgin Media knowing the Gigabit accessibility for an area. The 5G mobile network coverage maps do not show complete coverage as 4G now does, but even here, residents cannot take indoor 4G for granted. For the moment in any case, mobile 5G Broadband is more expensive than its fixed Broadband alternative, and therefore not economically viable to use in the home. Therefore, unless there are any areas in my Division without an Internet access at all, I shall be focussing my attention on fixed Broadband.
Broadband Bandwidth Target
In campaigning for faster Broadband in my County Division, an aim has to be declared. It was only when I heard about the Government's national 2025 £5bn Gigabit pledge that I realised that 1 Gbps was a good target to declare. This is largely because 1Gbps is sufficient for most needs, and will give residents a flexible choice of network bandwidth they want and how much they are prepared to pay for it.
Broadband Coverage
In an attempt to second guess the Government's strategy, I have given thought to Internet access within my County Division. The Internet can be accessed using fixed or mobile Broadband for which there are a number of providers. The big players are Openreach and Virgin Media for fixed Broadband and the Three, O2 and Vodafone partnership, the Shared Rural Network for mobile Broadband.
The more research I have done, the more I believe that Government does not have a coherent Broadband strategy. I hope to test their funding commitment by seeing how easy it is for local authorities to bid for it. However, since the 1980s when the Utilities were privatised it is logical to assume that commercial interests will play the biggest part in the rollout of Gigabit Broadband in the UK. If that is the case then residents must contact Openreach and Virgin Media in sufficient numbers to tell them what Broadband download speeds they want. If the demand is high enough, then your area will be upgraded. If it is not commercially viable for them, then contact your local councillor who can check to see whether Government funding can be obtained.
Register for Ultrafast Broadband with the two main players;-
https://www.openreach.com/fibre-broadband-availability-customer
https://www.virginmedia.com/help/registermyinterest
Ofcom
Ofcom are the Government communications regulator who ensure that our Broadband, home phone, mobile services, TV, radio etc., work correctly.
The Ofcom checker shows the broadband and mobile coverage to an individual postcode as well as a map. It will also show the predicted speeds available for broadband.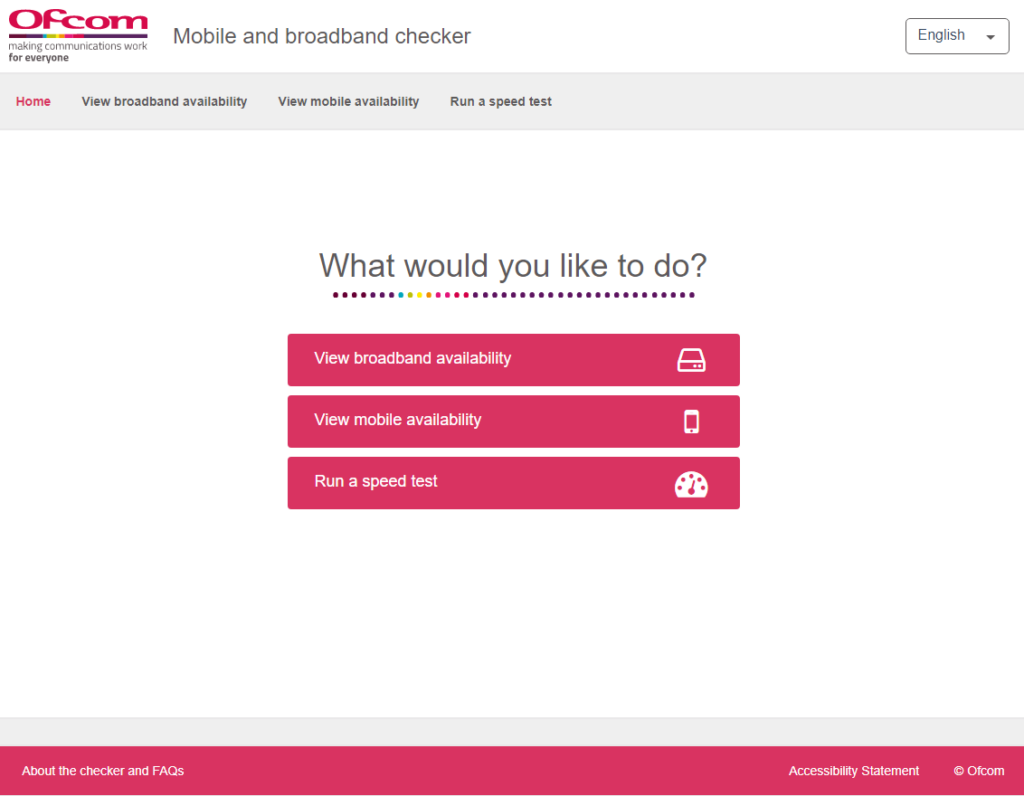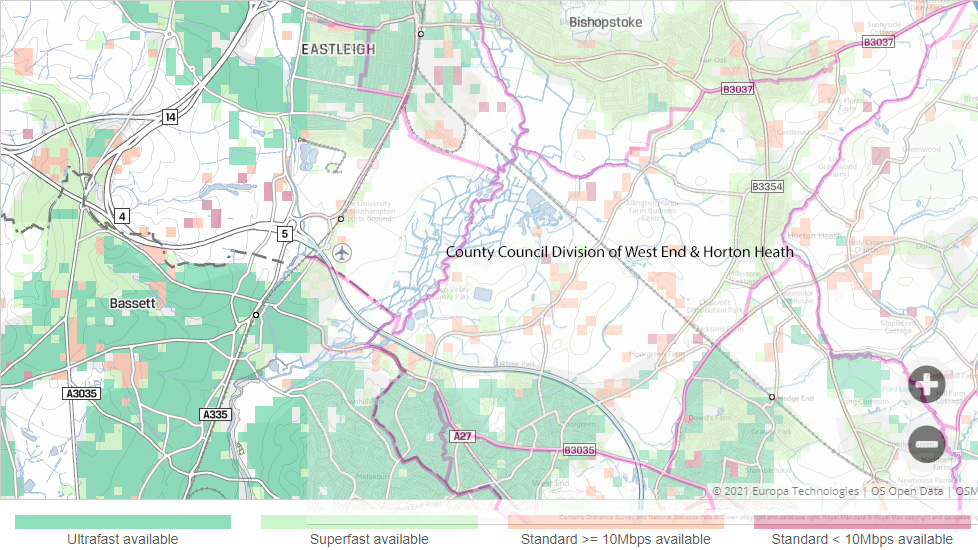 Ofcom explain that the map colours can be interpreted as follows;-
Standard, superfast and ultrafast denote different broadband speed categories:
Standard broadband has download speeds of less than 30Mbps;
Superfast broadband has download speeds between 30Mbps and 300Mbps;
Ultrafast broadband has download speeds of greater than 300Mbps;
Apart from Ultrafast, which is on fibre optic or coax cable, the available speeds quoted are only approximate since attenuation and connection losses are much higher over copper cable.
West End & Horton Heath
Openreach will have an inventory of their Cabinets, which may be available to the public. It is assumed that it will be the same for Virgin Media and to which telephone Exchanges their Cabinets are connected. Certainly, the mobile phone operators provide an on-line map of their mobile coverage. It would be very helpful if fixed and mobile coverage were shown on one on-line map.
One of my tasks will be to ascertain, where the Openreach Cabinets are located in my Division and how many streets they serve at speeds lower than 30Mbps. I have found an on-line tool written by a third-party organisation that seems to show Cabinet data. It shows that West End is served by a Moorhill Telephone Exchange and 36 Cabinets connected to it. Below are the locations of those Cabinets and the streets served by the Moorhill 30 Cabinet;-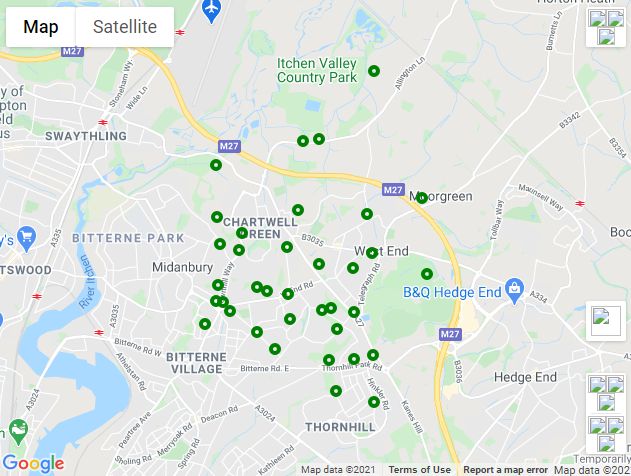 Source: Magenta Dialling Code Lookup
This video explains why Openreach are upgrading to full fibre;-
5G Outdoor Mobile Broadband coverage maps
The following maps show that 5G indoor data reception is unlikely within Horton Heath and only possible for part of West End.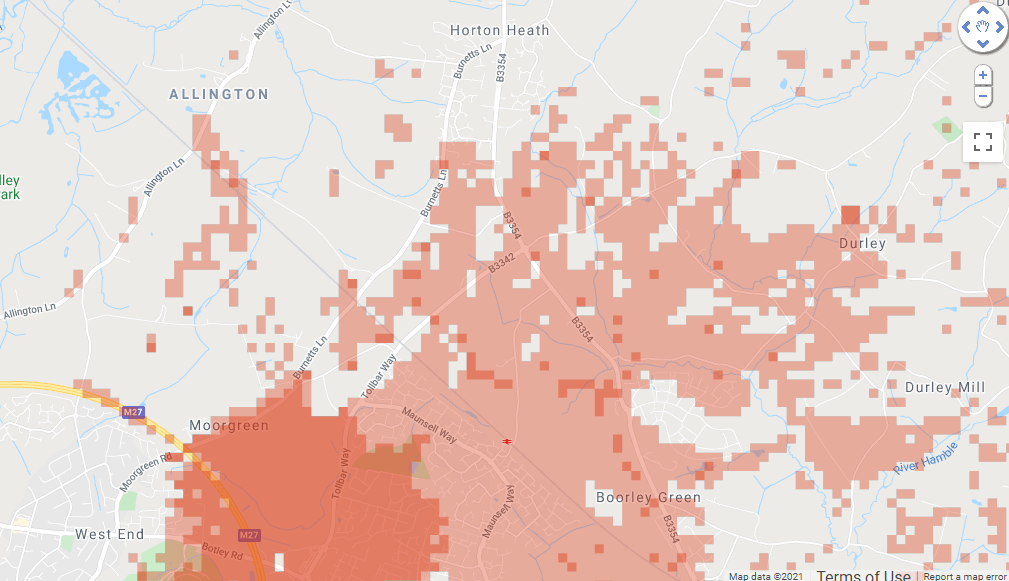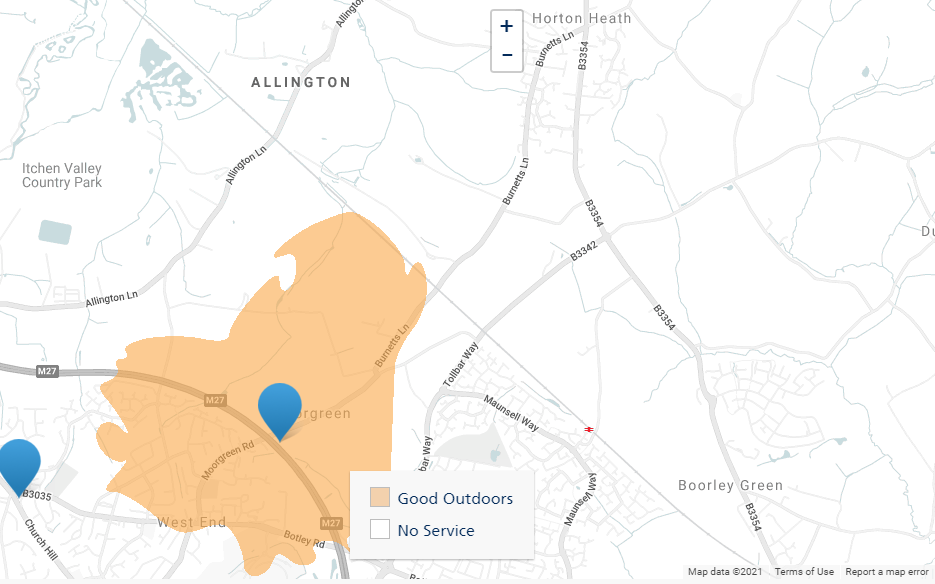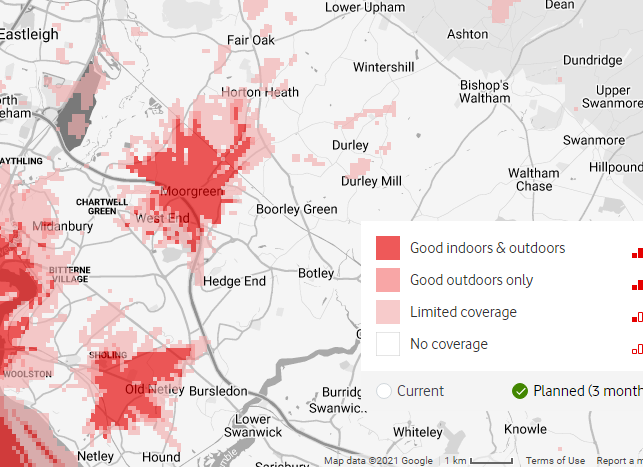 4G Indoor Mobile Broadband coverage
Although 4G mobile Broadband has been available for around 10 years, this Ofcom map shows that there is either a possible chance or no indoor data reception in Horton Heath and only a good chance in North West End.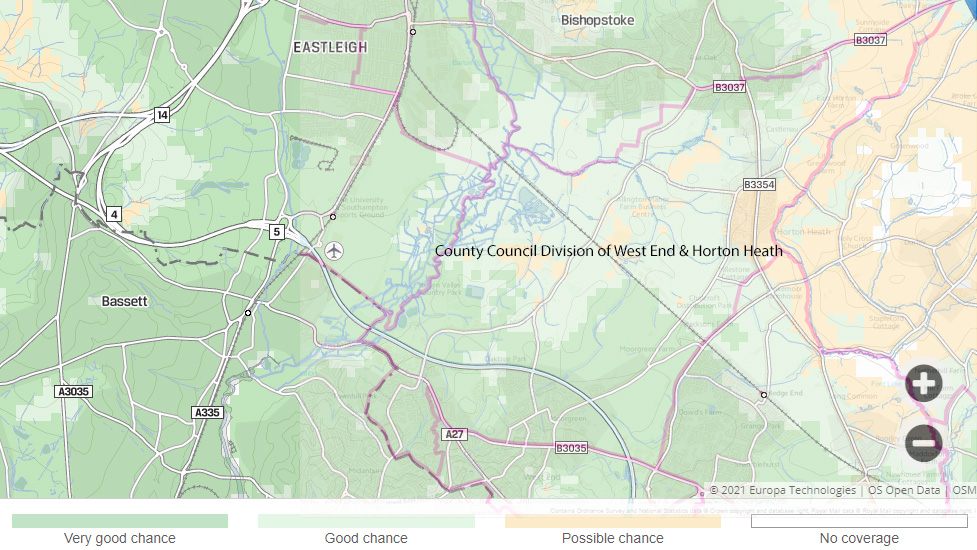 Funding
Government has made a 2025 £5bn Gigabit Broadband pledge, but how is this money to be distributed and how do local authorities bid for funding from that programme? Another question, can residents be proactive and claim funding for their own Broadband improvement of for that of community groups?
A previous Government Broadband accessibility scheme only targeted rural areas, but permitted community groups to claim funding via vouchers. Hampshire County Council still have £1m in their budget for this rural only scheme. Check to see whether your postcode is in an eligible area and whether you can Apply for Gigabit Broadband Access.
What Next?
We have access to the Cabinet data in the West End & Horton Heath Division and we have the Mobile network coverage maps for Three, O2 and Vodafone. The next step is to see what can be learnt from the Hampshire County Council Policy & Resources scrutiny committee meeting on Thursday 4 March 2021, where Hampshire Broadband is on the agenda and Openreach have kindly agreed to attend.
Summary
Until 5G coverage is as comprehensive as its fixed Broadband equivalent and its price becomes comparable, then fixed Broadband seems to be the most viable for the majority of people. I was very surprised to discover that Horton Heath households only have a possible chance of indoor 4G reception, a technology that has been rolled out for around 10 years.
Local authorities are best placed to assist with the implementation of Gigabit fixed Broadband and are able to bid for Government funding. The interfacing organisation is Building Digital UK. Beyond declaring £5bn for a minimum of 85% national Gigabit Broadband coverage by 2025, Government have not said how they will achieve it and how their success will be measured.