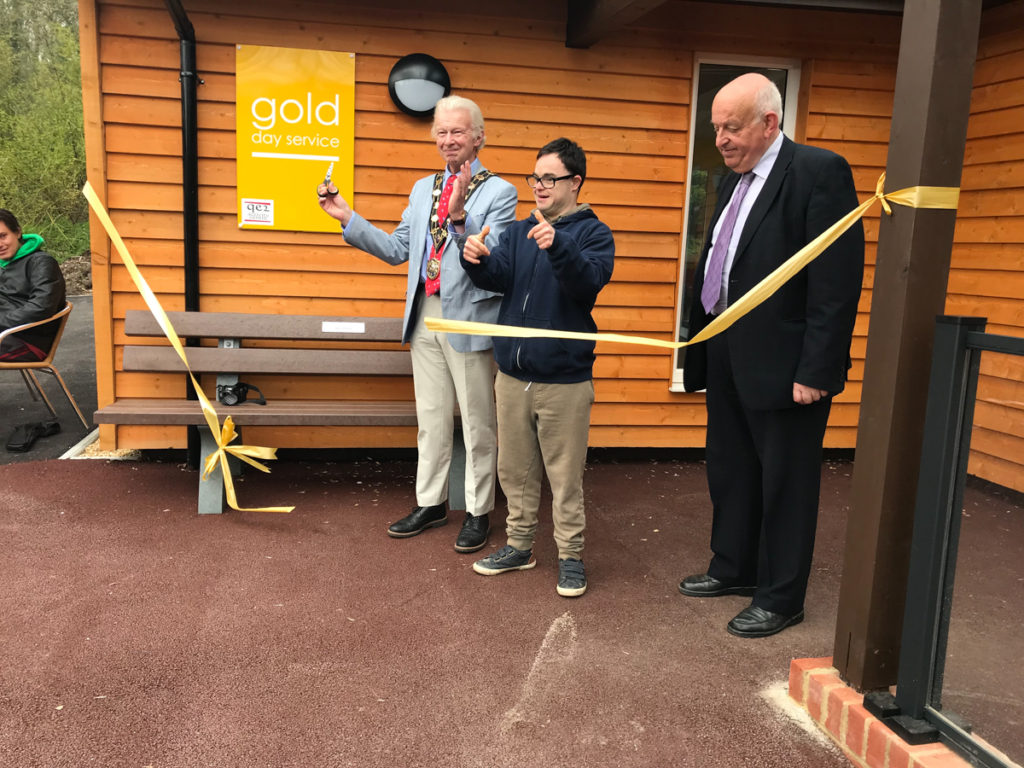 On 8 April 2019, I was asked to open formally the QE2 Activity Centre, Gold Day Service Building at the River Hamble Country Park in Bursledon. The MP for Eastleigh had originally been invited to open the new building, but had sent her regrets.
The format was;-
General introduction from the Chair, Wayne Irish
Words from one of their service users, Paul Jordan
Opening by the Mayor, Cllr Bruce Tennent, Speech and cutting the ribbon
Tour of new building including Sensory Room, Changing Places bathroom
View activities in Activity Room
Speak to staff/service users/other attendees
Refreshments, served by service users
Background
QE2 Activity Centre, an outdoor activity centre for people with disabilities, was opened in March 1978 to commemorate the Silver Jubilee of HM Queen Elizabeth II. It provides activity opportunities for children and adults with disabilities and day services for adults with learning disabilities. The Centre is a registered charity (CIO) which employs 11 people; provides almost 8,000 activity experiences per year as well as providing over 4,000 day service places for adults with learning disabilities annually.
From the start, this has been a community project, supported by local authorities in Eastleigh and Hampshire, relying on the backing of local people and organisations. Across 40 years the Centre has provided a range of activities and developed different ways for people to use the facilities.
Activities include;-
Out on the River Hamble – canoeing, kayaking, motor boating;
In the woods – Bush craft and orienteering;
In the grounds – ropes course, Zip wire, problem solving and tee climbing
In the Centre – archery, rifle shooting and climbing
The most significant change in recent years has been the development of day services.
Gold day service
In 2014, the Centre introduced a new service called Gold. The focus for Gold was less about developing work skills and more about enrichment.
Day services for adults with learning disabilities need to be meaningful and challenging; even a service based on recreation and leisure activities needs to stretch and stimulate its participants.
With this in mind, a wide and varied programme has been developed including;-
Making the most of the rich local environment, the woods and fields, the Hamble River; with regular walks and river trips
Offsite trips too, from Beaulieu and Marwell to the local shops and the library
Taking part in activities like archery, rifle shooting and climbing; developing skills, concentration, confidence and co-ordination.
As well as these, there were building based sessions including music and yoga; cooking and baking, sewing, arts and crafts, sensory and communication activities.
The Gold Day Project
The problem that the Gold group had was that the building being used was too small. A cabin at the top of the hill, designed for a different purpose, presented all kinds of access issues. For the Gold Day, service to flourish it needed a new base. After speaking to users and their parents and carers, looking at other facilities and endless discussions a new building was designed. Then the hard part – raising the funds. Thanks to overwhelming support from almost 100 organisations and individuals the target was reached, the building is built and very much welcomed by the users.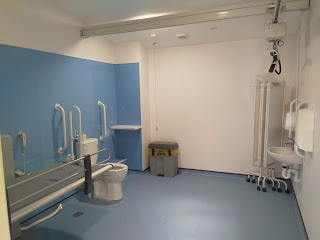 Although I was impressed with what had been in achieved with the "Gold Day Service" building and how sufficient funding was found, what particularly struck a chord was the new Changing Places toilet as it reminded me of the similar facility I had helped fund at Kings Community Church.
Changing Places toilets refer to a type of facility with extra equipment and space to allow people with profound and multiple learning disabilities to use the toilets safely and comfortably. Of course, those with other physical disabilities such as spinal injuries, muscular dystrophy and multiple sclerosis also often need specialised toilets.